It's been a while since I've written here, but there was no way I couldn't finish my thoughts on the Blue Zones and their important messages. So here it goes continuing on from my last post (see below).
4. 80% Rule
It's a tradition in Okinawa to say the phrase "Hara hachi bu" before every meal, which serves as a reminder to eat only until your stomach is 80% full. I find it amazing that this is a Confucian teaching from 2500 years ago, which just goes to show us that this idea is not a new concept. You may have heard before to slow down while eating, because it takes our brains around 20 minutes to register that our stomachs are full. It's very difficult, especially the way our culture is today, to remind ourselves just how much of a difference this simple idea can make in our overall health and enjoyment of food.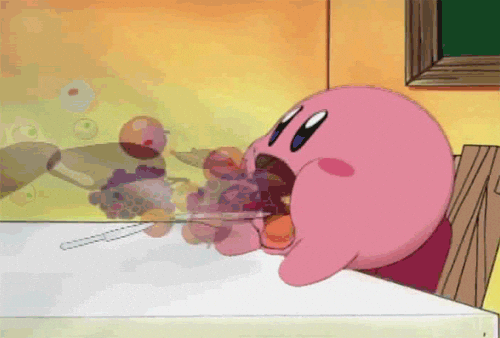 Image via GIPHY
We live in a world where the more that can get done at once in the shortest amount of time, the better. But how is that affecting us? Well, we're eating while doing a million other things at once, shoveling food into our mouths and rushing to the next activity. Even eating a meal at a restaurant, an intentional decision to make that specific meal more of an experience and social hour, has become a race to finish huge portion sizes in a short amount of time. Because that's only fair to the others that are waiting, right? We almost need to re-teach ourselves what once was, when a meal was about sitting down with others, talking about the day, and actually having the luxury of chewing our food. We need to get that phrase that Mom and Dad once taught that we must lick our plates clean before we are allowed to do anything else, free from our minds. Especially when that plate is served for one, but can easily feed two or three! Look, I'm not here to judge anyone's portion sizes or tell you not to enjoy your food. In fact, I think the main result of this mantra is quite the opposite. By reminding yourself not to eat to the point of discomfort, which we all have done, you'll end up enjoying your meal even more. Feeling satisfied and satiated. And the best part is, you may even have room for dessert!
This all being said, it's no wonder the Okinawans have 80% less incidence of heart disease than in the U.S., as well as lower rates of cancer. And I bet they're smiling after each meal, too. 
5. Plant Slant
Dan Buettner discovered that beans are a staple among the centenarian's regular diets across each of the Blue Zones. Can I just talk about beans for a minute? It seems like they get such a bad reputation these days, and it makes me sad. There aren't many natural foods that can give you a healthy source of complex carbohydrates, protein, and a boat load of fiber, all rolled into one small nugget. Yes, they have carbohydrates in them; I think that's one reason that the mention of a bean may cause that dramatic gasp you may have experienced. But guess what? They also have a low glycemic index (rate at which our blood sugars rise), because of all that fiber that's in them. Let's not pretend like the carbohydrates that are in a bean (a natural food) are the same as the carbohydrates found in white breads, white pastas, cookies, and cakes (processed foods, despite their rating of deliciousness). Plus, most Americans are lacking in fiber intake as it is, so why not get it from an unprocessed, whole food, rather than relying on powders, pills, and whatever other synthetic concoction some scientists come up with tomorrow. 
Meat is eaten an average of 5 times per month. Guess what? That means these people are only getting protein and iron from a meat source about once a week, and they're still surviving! Not just surviving, but living to the age of 100 and beyond. There's a big misconception among us Americans about the amount of protein we need in a day. With all the protein powders, shakes, and bars available wherever you go, it's not surprising that that's the case. But the truth is, on an average we actually consume more protein than our body needs. Plus, our only source of iron is not just red meat. What about dark leafy greens, whole grains, potatoes, nuts/seeds, dark chocolate (my personal fave) and wait for it … beans!!
Let me take a moment to clarify that I'm not advocating for a vegetarian or vegan diet by any means. I believe that to be a personal decision and that every individual is different. However, I do believe that we can still be mindful of balancing our sources of food. There are a ton of foods out there that have gone through no fancy form of processing or manipulating, whether to increase its protein content or otherwise, yet they are nutritional powerhouses left just the way they are. And I don't know about you, but finding beauty in something left untouched is my definition of perfection.
6. Wine at 5:
I think it's safe to say that for some of us, this might be the best news yet! Apparently, with the exception of the Adventists, people of the Blue Zones drink moderately on a regular basis. Moderately is the key word here – so no, binge drinking on the weekend isn't going to help you live longer. But, 1-2 glasses of red wine a day during a meal among friends can actually be beneficial to our health. This does make me wonder if it's more so about the resveratrol found in red wine that may offer protection against heart disease, or if it's simply about relaxing and enjoying with friends that offers us a dose of happiness we need every day. Either way, CHEERS! 
Image via GIPHY